The translation industry is multi-faceted and complex.
In order to facilitate communication between people interacting in different languages, either translation, interpretation or transcreation can be used to help.
Although many people think all three fall under the umbrella term of 'translation', in actual fact, the three are very different, requiring distinct skills and are used in varying contexts.
With extended years of experience & ISO quality certification, Davron Translations can provide clients with any of these services in order to best help them achieve their 'translation' requirements.
Simply put, translation is the act of rewriting a document or text in a different language to that of the original. 
The focus is on conveying the same meaning and trying to give an accurate version of what is stated in the new language. This is confined to literature and is widely used in the world today. 
Books, contracts and many other forms of documents and written work can be translated into other languages and it is essential in our global world. 
Our company can offer legal as well as civil translations, for documents such as diplomas, grade transcripts, birth, marriage and death certificates, as well as contracts, legal judgements and many others. 
Email correspondence, medical documents and immigration related forms are also examples. 
Our expert and qualified team is readily available to translate your documents, and doing so has never been easier with our Instant Quote feature on our website. This quote is free and with the ability to scan your document in, everything can be completed online with ease.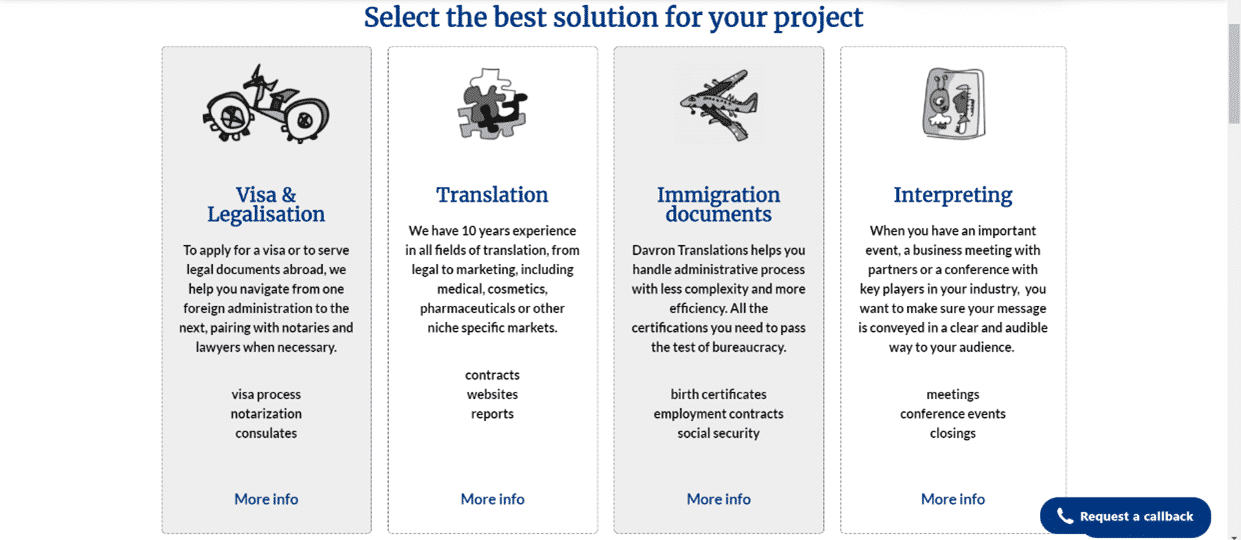 Transcreation, while similar to translation in some ways, is used primarily in more creative projects, including marketing or websites. 
It involves rewriting the text into another language, while having a focus on how the text will be interpreted by the audience. This is essential for marketing or documents like CVs where the message must be conveyed to the reader in a certain way.
 In order to achieve this, Davron Translations has a diverse team of native English and native French speakers who are familiar with idiomatic phrases, semantics, and how to make texts seem natural in a language. 
Furthermore, we also work closely with clients to best suit their needs. 
Communication is key and discussing/amending translation options allows us to ensure that the texts are translated in an appropriate manner. 
We want to help you so that your clients, future employers or anyone else involved, understand your texts and ideas in the way that you originally intended. 
With our expert knowledge of translation and design software, we ensure that document such as brochures and presentations are displayed in the same way. 
Transcreation is also extremely useful when you have a specific audience in mind. 
For example, translating into British English will require certain terminology and a cultural understanding which is different when translating into American English. 
From date formats to spelling changes, we are internationally proficient and can guarantee you will be provided with relevant and specific terminology and formatting

While Translation and transcreation focus on writing, interpretation is used for spoken interactions between people.
This is extremely useful in presentations and face-to-face meetings and the interpreter involved works in real-time to convey the speaker's message and ideas to others.
We can offer a variety of interpretation options to suit your needs, including phone all interpreting and onsite interpreting.
Whether simultaneous or consecutive, our team is available to help you communicate with your audience.
Liason interpreting, meaning accompanying people when visiting somewhere that requires interpreting, is another service we can provide.
We require excellence and our interpreters are required to hold a Master's degree in this field and/or an equivalent experience in a specific speciality.
Visit the interpretation section of our website to find out more about the services we provide and how we can help you with your interpretation needs (https://davrontranslations.com/interpreting/).
So, whether written or spoken, more marketing and more leaglly orientated, Davron Translations is here to help. We want to work with you so that your documents, projects, or spoken discourse are translated and interpreted in such a way that is suited to you.